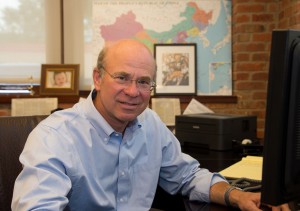 Gary Gorman at his desk at Gorman & Company's headquarters in Oregon,  Wis.
Seven years ago, after negotiations over city assistance for a development on  the 800 block of East Washington Avenue soured, Gary Gorman  vowed never to work in Madison again.
Gorman had invested two years in "Avenue 800," initially proposing an $85  million mixed-use project with 309 condominium units in nine buildings, later  downsizing it after the city balked at his request for $7.8 million in tax  incremental financing (TIF). The two sides eventually parted ways over a $1  million difference in TIF, leaving the high-profile parcel next to Breese  Stevens Field vacant to this day.
It wasn't the award-winning developer's first dust-up with the city.
Gorman previously was stymied by neighborhood activists from razing the aging  Quisling Clinic at 2 W. Gorham St. to make way for a seven story, 101-unit  apartment. While the art moderne structure was eventually redeveloped into 60  apartments, Gorman maintains he lost money on the deal.
"I won't say I wouldn't do another downtown Madison project, but you have to  weigh the rewards with the risks," he told The Capital Times in a 2001  interview. "And working your way through that approval process is certainly part  of the risk."
But all that history appears forgotten amid a resurgent real estate market,  the unquenchable thirst among medical providers for more space and a city  administration willing to open its pocketbook for the private sector.
Last week, Gorman & Company inked a deal with the city to rescue the  long-stalled Union Corners site at the corner of East Washington Avenue and  Milwaukee Street. Anchoring the proposed $84 million project is a  60,000-square-foot UW Health clinic.
Back in 2003, before the housing bust sent the national and local economies  into a tailspin, developer Todd McGrath had plans to turn the 11-acre Union  Corners site into a mix of high-density housing, shopping and open space. The  $70 million project was widely hailed as a game-changer, something that would  finally spur development up and down the blighted East Washington Avenue  corridor.
When the recession hit, however, all those dreams were drowned in a river of  debt, and McGrath ended up losing the property in a voluntary foreclosure. The  city of Madison eventually stepped in, buying the land from M&I Bank for  $3.57 million, with the expectation it could eventually find a private developer  to take over the site once the economy improved.
Enter Gary Gorman, who is back working with the city on the Union Corners  site. His proposal was selected by an ad-hoc special committee in November after  competing developers dropped out.
Gorman says there was nothing special about his decision to jump back into  the local development game. He was approached by UW Health officials about  building a new clinic at Union Corners and decided to take a look.
"That is what really sparked it," he says. "An opportunity presented  itself."
UW Health officials are ready to get moving. The provider was looking to  replace its aging East Towne Clinic and also has a track record in working with  Gorman, who bought the Quisling Clinic from UW Health 15 years ago.
"We were very impressed with the way he worked with the community and  neighbors in the area as well as coordinating with the city staff and  departments," says UW Health spokeswoman Lisa Brunette.
Not everyone sees it exactly that way.
Former Madison Mayor Dave Cieslewicz, who was involved in  the failed TIF negotiations with Gorman on 800 East Washington back in 2006,  notes Gorman's past support for current Mayor Paul Soglin. Gorman had backed  Soglin in his 2003 upset loss to Cieslewicz and again in 2011 when Soglin turned  the tables on Mayor Dave.
"I liked Gorman's proposal for East Wash, but he was asking for an exotic  financing mechanism that drew the strong objections of city staff and was  rejected by the Board of Estimates," says Cieslewicz. "It's ironic that he's now  reviving Union Corners."
Campaign finance records show Gorman contributed $250 to Soglin in his run  against incumbent Mayor Cieslewicz in 2011. But Gorman maintains the change in  the mayor's office had no bearing on his decision to tackle Union Corners.
"There was nothing political about it at all," he says.
And it's not like Gorman, a 1973 graduate of Monona Grove High School, has  been sitting on the sidelines stewing over deals gone bad. On the contrary, his  firm has been busy working in a variety of markets outside Wisconsin, even  tackling an affordable housing project in Gulfport, Miss., in the wake of  Hurricane Katrina.
In fact, Gorman & Company has carved out a national reputation for  downtown revitalization and historic renovations using tax credits and other  creative financing vehicles. Rather than having to look for business, the firm  has found itself sought out by cities looking for developers willing to work in  old factory districts or troubled inner-city neighborhoods.
"Frankly, we haven't done much work in Madison since Avenue 800 because so  many other communities want us working there," says Tom Capp, chief operating  officer at Gorman & Company.
In Phoenix, the firm has been pursuing transit-oriented developments designed  to incorporate housing, offices and commercial space around that city's new  light rail system. It has also built affordable housing designed to bring more  residents into the downtown.
In Miami, the firm has worked with world-renowned architect and planner Andres Duany to develop "workforce housing" for employees in  the Florida Keys tourism industry who otherwise couldn't afford to live near  their jobs.
"Our wheelhouse is really about community building," says Capp, a former  mayor of Fitchburg who has spent the past three years living in Miami overseeing  those efforts.
Closer to home, Gorman & Company has made a big name for itself in  Milwaukee. The firm has tackled some 30 housing projects in Wisconsin's largest  city over the past decade, including two redevelopments at the former Pabst Brewery just north of downtown.
The company has twice been lauded by the Business Journal of Greater  Milwaukee for residential development of the year: in 2006 for the Historic  Lofts on Kilbourn Avenue and a year later for the Park East Enterprise units on  Vliet Street.
Count Milwaukee Mayor Tom Barrett as a big fan. He still remembers Gorman  from the late 1970s when both were long-haired students at the UW-Madison Law  School thinking of ways they could change the world.
"Yes, Gary has been an opportunist but these are opportunities nobody else is  taking advantage of," says Barrett. "Maybe the best thing I can say is he hasn't  been afraid to invest in places other people wouldn't touch."
A father of five, Gorman has long shown an affinity for  crafting complex financial arrangements. His first job after graduating from law  school in 1980 was representing developers and syndicators who were raising  capital from investors.
But Gorman soon found himself more interested in doing his own deals than  negotiating on behalf of others. In 1984, he founded Gorman & Company and  two years later began taking advantage of the new federal Section 42 tax credits  that helped provide low-cost financing for projects with an affordable housing  component.
Under the program that still exists today, a developer secures the credits  and offers them to investors in exchange for cash that can be used to lower  borrowing costs. Investors can then use the credits to offset their tax  liabilities on other income.
Gorman also saw Section 42 as a good business approach since competitors  either didn't understand the process or didn't want to jump through a lot of  hoops. One of Gorman's first major projects — some 200 apartments built in  several phases near Elver Park — was financed with Section 42 tax credits.
Today, Gorman & Company employs 235 people nationwide with a development  portfolio topping $560 million. The firm owns and manages nearly 4,000 housing  units and manages another 1,100 for other owners, with satellite offices in  Phoenix, Miami, Chicago and Milwaukee.
But Gorman has never been one to flash the cash. For years his company  operated out of a small office on South Park Street next to Copp's grocery. Only  later did he move the headquarters to a restored schoolhouse in Oregon.
Given all that success, Gorman could be throttling back and  spending more time with his family, but says he is looking forward to watching  Union Corners unfold.
"I know there is some history there, but it's still a great site," he says. "We're also getting a lot of interest from businesses who want to locate there  and that is very encouraging."
Although it's been a while since Gorman has worked with the city, his  reputation for being a tough negotiator hasn't changed. It took nearly six  months of discussions before the city and Gorman finally reached a deal on the  Union Corners property.
Under the plan approved by the Madison City Council July 16, the city will  sell the property to Gorman for $1 in lieu of making a TIF loan to the  developer. The city then hopes to recoup its estimated $6 million in land and  infrastructure costs through new property taxes generated by the  development.
Plans call for development in four phases: The first is 60,000 square feet of  medical clinic space with parking at the corner of East Washington Avenue and  Milwaukee Street, followed by 50 to 100 residential units. Phase 3 calls for  retail, a public library and office space. More retail, a restaurant or  additional housing are eyed for phase 4.
The deal includes exceptions to current city TIF policy, including allowing a  corporate rather than personal guarantee for repayment and no requirement that  the city take a share of the profits if the project is sold before the city  recoups from the developer the $6 million it has already invested in the  site.
Former east side Ald. Brenda Konkel, who went to bat for Gorman on his 800  East Washington proposal during her days on the council, says she always  respected him as both a quality developer and tough negotiator. But she worries  that Gorman's arrangement with the city signals a worrisome trend.
"This is a really good example of how lax our TIF policy has gotten," she  says. "The last time (with Gorman) the personal guarantee was a deal breaker but  this time no one even batted an eye. The candy store is wide open."
Still, city officials say they are comfortable with the plan since it also  includes a caveat that the city could reclaim any undeveloped property back for  $1 after five years if Gorman does not develop the entire parcel.
"It's an unusual case," admits city economic development director Aaron  Olver.
Soglin says he is confident that Gorman can pull everything together and  doesn't anticipate any future setbacks.
"I don't think Gary would have invested this much time into it if he didn't  intend to take it all the way through," Soglin says.
Watching with mixed emotions as the plan unfolds is Lance McGrath, who has  taken over management of McGrath Associates following the illness of his  brother, Todd. The family firm took a body blow with the Union Corners meltdown  but has gotten back into the development game of late with several smaller  apartment projects.
"We have moved on but wish Gary nothing but the best," says Lance  McGrath.
Meanwhile, plans are now moving forward on the same site where Gorman's  earlier plans fell through.
In June, following a quick negotiation, Gebhardt Development and Metcalfe's  Market reached a tentative deal to purchase land from the city for a $65  million, 10-story mixed-use project. That deal calls for the city to sell a  4.5-acre site on the north side of the 800 block of East Washington Avenue for  $3.15 million.
Plans there call for a 50,000-square-foot Metcalfe's grocery with a rooftop  garden, along with up to 240 residential units, including 45 low-income units. A  second phase calls for 22 condominiums, 65,000 square feet of commercial space  and more parking.
The project has generated a lot of support from the adjoining neighborhood  and city officials anxious to move vacant property onto the tax rolls.
But here's the kicker: The new developers are looking for $7.9 million in TIF  to make it happen. That's $100,000 more than Gorman had sought seven years ago,  but Gorman's "Avenue 800" was valued $20 million higher.
Gorman a leader in using visa program to attract Chinese investors
Gorman & Company has long been known for using government tax credits to  finance real estate developments with an affordable housing or historic  preservation component.
And now the Oregon-based firm is tapping foreign investors hungry for green  cards.
Using an arcane government program that offers visas to foreigners who invest  money in targeted areas in this country, Gorman in 2011 secured $11 million from  Chinese investors for the 90-room "Brewhouse" extended-stay hotel at the Pabst  brewery site.
Run through the U.S. Immigration Service, the EB-5 visa program provides two  years of residency to foreign nationals and their families who invest a minimum  of $500,000 in cities with high unemployment or "Targeted Employment Areas." The  investment must help to create or preserve at least 10 jobs for U.S.  workers.
To arrange financing for the Pabst project, Gary Gorman made four trips to  China over six months to work out the details. He is now so bullish on the  program his company has applied, and was recently certified by the federal  government, to be one of some 330 regional centers nationally — six in Wisconsin — to handle investor visas, allowing Gorman to collect a fee for the effort.
"It's a complicated process but more people are starting to use it," says  Gorman.
The EB-5 visa program has been around since the Immigration Act of 1990. A  2005 audit, however, found the program was not getting as much use as Congress  had anticipated. So in early 2011, the Immigration Service streamlined the  application process to attract more participants.
By the end of 2011, more than 3,800 EB-5 applications had been filed compared  to fewer than 800 applications in 2007, according to the Government  Accountability Office.
But don't expect Gorman to tap Chinese or any other foreign investor for the  Union Corners project.
"It's more likely we'll raise our money for that one," says Gorman, noting  that Madison's unemployment rate is also too low to allow investors to take  advantage of the $500,000 limit.
Read more: http://host.madison.com/news/local/writers/mike_ivey/developer-gary-gorman-was-through-with-madison-now-he-s/article_8d004c96-f22a-51e2-8e08-2c9304c0193b.html#ixzz2ZyViuLs7