East Valley Tribune, Thursday, December 5, 2013
The City of Mesa held a grand opening event on Dec. 4 for a new mixed-use development that will provide housing for low- to moderate-income families.
The Escobedo at Verde Vista features 70 energy efficient rental units accessible to people with physical disabilities. A few amenities include a business center, clubhouse, state-of-the-art fitness center and a picnic area. Escobedo at Verde Vista will also house the new headquarters for Save the Family Foundation of Arizona; an organization that helps homeless families become self sufficient.
The development was built on the site of a facility that was vacated in 2007, and a few units from the original version were not demolished. The four "legacy" units include a leasing office, a multi-purpose building for a before-and-after school program, a computer lab and training center, a theatre and fitness center, and a museum.
Financing for Escobedo at Verde Vista came from private equity via the sale of federal tax credits. The development was constructed by the City of Mesa, Gorman & Company, Affordable Rental Movement and the West Mesa Community Development Corporation.
"We are happy to see quality private investments like Escobedo at Verde Vista coming to the City," Mayor Scott Smith said in a statement. "It shows people have decided that Downtown Mesa is a great place to invest."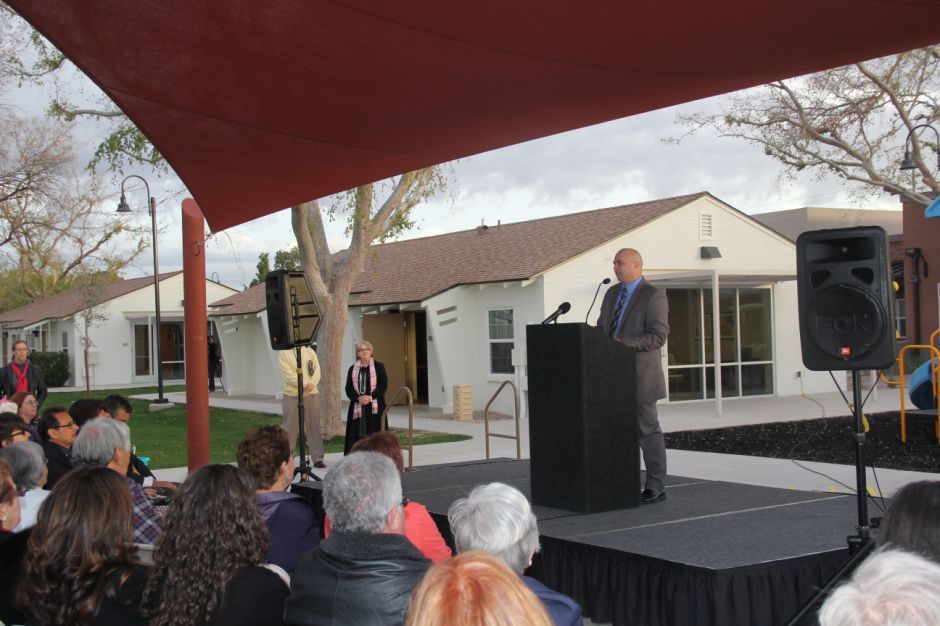 Mesa City Councilmember Chris Glover speaks at the opening of Escobedo at Verde Vista on Dec. 4, 2013. [Courtesy City of Mesa]