Co-Written by Kimball Crangle and Melinda Pollack, Denver Business Journal, May 5, 2017
While Denver's civic leadership focus turns to infrastructure, Denver voters continue to rate the affordable housing challenge as a top priority that they would like to see the city council and mayor more aggressively address. We believe there's a path forward that yields a more inclusive, connected and affordable Denver for all, if we invest in both.
A recent poll of likely Denver voters also provides evidence of strong support for common sense laws to enhance the rights of renters, plus raise more civic capital to stem the affordability crisis. The lack of affordable housing is affecting virtually all households and is rapidly reshaping our city's neighborhoods, racial composition, culture and distinctiveness. The poll reveals these ongoing concerns, and also suggests a path forward for addressing the issue in a more substantive way.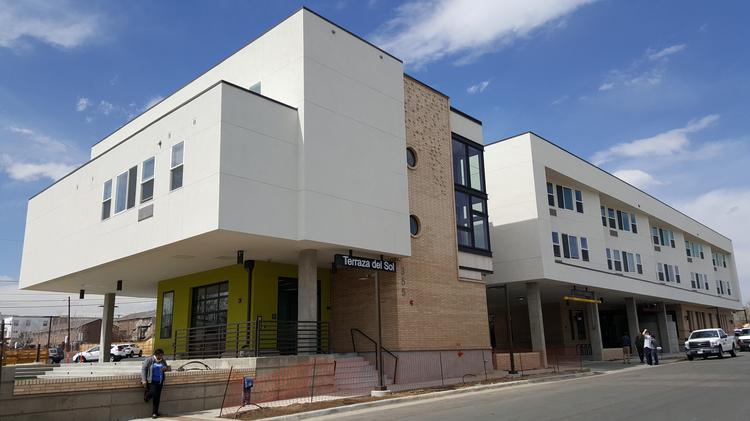 The poll, co-sponsored by Enterprise Community Partners and All In Denver, two nonprofit organizations that advocate for affordable housing and social equity, was conducted by a professional community relations firm in the first half of February and carries a margin of error of about 5 percent. The organizations conducted the poll in the aftermath of Denver's effort last fall to create a new dedicated fund for affordable housing. Billed at the time as a "first step" to address the city's affordable housing crisis, the new dedicated fund is estimated to create up to 600 affordable units per year in a city that is tens-of-thousands short. The poll was designed to gauge whether the issue remains high on voter's minds, and whether there is an appetite to move more forcefully on the issue.
The poll revealed as least four major themes that Denver civic leaders should consider.
There is broad support for the city's housing fund that was created last fall.Seventy-four percent of Denver voters approve of the housing fund that was established by a new property tax and developer fees last fall. Notably, only 19 percent of Denver voters disapprove. Approval of the housing fund extends throughout the electorate, including fiscally conservative voters and high-income households. Created through a split vote and with organized opposition from the business community, Denver's City Council members should be reaffirmed that their actions are viewed by constituents as both necessary and responsible.
Affordable housing continues to be rated as one of the most important issues for the city to address. When asked to identify two issues that voters would most like to see the city council and mayor address, only education outranks the housing-related concerns of affordable housing, homelessness and cost of living. Transportation, a current focus of city policy and funding efforts, ranks a distant fifth.
There is strong support for common sense policies to protect renters.Colorado ranks low nationally in tenant protections, which makes it more difficult for renters to qualify for and remain in affordable units. The Enterprise-All In Denver poll explored a variety of common sense protections that could level the playing field for tenants and be immediately enacted by the city. Tenant protections such as preventing landlords from profiting on application fees, requiring landlords to have good cause for evictions and allowing tenants to use all sources of income to qualify for housing all received support from more than three-quarters of survey respondents.
There is evidence that voters would support bolder solutions to affordable housing. To test the appetite for supporting bolder approaches to affordable housing, the poll sought opinions on a potential bond issue that could create from $150 to $300 million in capital for a variety of initiatives. Similar bond issues have recently passed in several cities and counties along the West Coast where housing affordability issues are arguably more severe than Denver. Bonding the affordable housing package that was approved last fall, which would result in no increase in taxes, registered support from 75 percent of survey respondents. A more ambitious scenario that would create a slight increase in property tax, was supported by two-thirds of survey respondents.
The path forward to a bolder policy response to Denver's affordable housing crisis is set by the city council's action last fall, and is bolstered by the findings from the Enterprise-All In Denver affordable housing poll. In addition to establishing a dedicated fund, the city council authorized that a housing plan be developed to provide more comprehensive solutions. The plan, to be completed this year, could provide the blueprint for a bolder solution in 2018, including additional resources and stronger protections for lower income members of our communities.
We hope that our policymakers join us in continuing to keep affordable housing front and center in the civic conversation, much like the issue continues to be front and center in the minds of Denver voters.
Kimball Crangle is co-founder of All In Denver and Colorado market president for Gorman & Company, a development firm specializing in affordable housing. She can be reached at 303-887-2707 or kcrangle@gormanusa.com. Melinda Pollack, also a co-founder of All In Denver, is vice president and Denver market leader with Enterprise Community Partners, a national non-profit organization advancing affordable housing. She can be reached at 303-376-5405 or mpollack@enterprisecommunity.org.